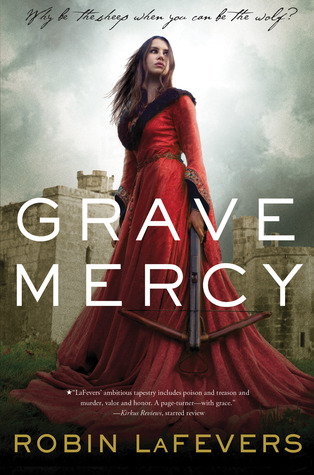 Why be the sheep, when you can be the wolf?
Seventeen-year-old Ismae escapes from the brutality of an arranged marriage into the sanctuary of the convent of St. Mortain, where the sisters still serve the gods of old. Here she learns that the god of Death Himself has blessed her with dangerous gifts—and a violent destiny. If she chooses to stay at the convent, she will be trained as an assassin and serve as a handmaiden to Death. To claim her new life, she must destroy the lives of others.
Ismae's most important assignment takes her straight into the high court of Brittany—where she finds herself woefully under prepared—not only for the deadly games of intrigue and treason, but for the impossible choices she must make. For how can she deliver Death's vengeance upon a target who, against her will, has stolen her heart?
So continuing with my current mysterious reading mood, I plucked this one out of my stack. I had won this from my library during their reading program this past summer and have been wanting to pick it up ever since. But i have just never been in the perfect mood. Until now. I loved the story and all of the growth the character goes through and how she learns to handle what she has been handed in life. I feel like she just got stronger through the book but still had weaknesses and still had problems. But everything didn't go according to her plan or what she wanted. With plenty of twists and turns to keep anyone guessing, this is an awesome read that not only has mystery, but history aspects as well. I would highly recommend it.