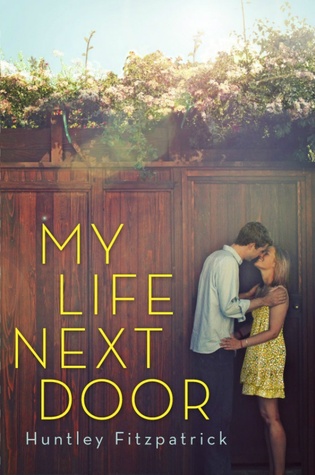 "One thing my mother never knew, and would disapprove of most of all, was that I watched the Garretts. All the time."

The Garretts are everything the Reeds are not. Loud, messy, affectionate. And every day from her rooftop perch, Samantha Reed wishes she was one of them . . . until one summer evening, Jase Garrett climbs up next to her and changes everything.

As the two fall fiercely for each other, stumbling through the awkwardness and awesomeness of first love, Jase's family embraces Samantha - even as she keeps him a secret from her own. Then something unthinkable happens, and the bottom drops out of Samantha's world. She's suddenly faced with an impossible decision. Which perfect family will save her? Or is it time she saved herself?

A transporting debut about family, friendship, first romance, and how to be true to one person you love without betraying another.
I am so glad I am finally getting to read a Huntley Fitzpatrick novel. I have been following her on Goodreads for quite awhile and have heard nothing but great things from people about any of her books. I found this one at a garage sale a couple of weeks ago and had to read it. So I did. And I loved it. I love that there is a large family in this book, I come from a family of 6 kids and I feel like it is hard for me to connect to the characters that have say 1 or 2 or 0 siblings. But the Garrets aren't quite my family but close enough. I give this 5 stars all the way!