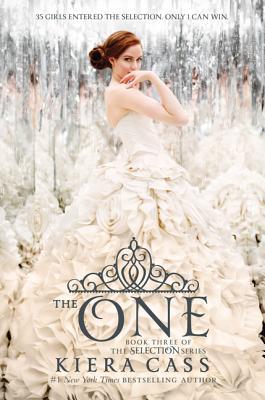 The highly anticipated third book in Kiera Cass's #1
New York Times
bestselling Selection series,
The One
will captivate readers who love dystopian YA fiction and fairy tales.
The One
is perfect for the fans who have followed America's whirlwind romance since it began—and a swoon-worthy read for teens who have devoured Veronica Roth's
Divergent
, Ally Condie's
Matched
, or Lauren Oliver's
Delirium
.
The Selection
changed America Singer's life in ways she never could have imagined. Since she entered the competition to become the next princess of Illéa, America has struggled with her feelings for her first love, Aspen—and her growing attraction to Prince Maxon. Now she's made her choice . . . and she's prepared to fight for the future she wants.
Find out who America will choose in
The One
, the enchanting, beautifully romantic third book in the Selection series!
First off can we talk about this cover? First of all its America in a wedding dress (swoon) and also how all the book covers together are red, white and blue. The colors of the American flag. I have been waiting so long for this book, I wanted to know how it ended and it ended so well I was going to cry tears of joy! I got this book from the library earlier today and I had been waiting (not very patiently) on my turn on the hold list. I devoured this in a couple hours. I had to, I was so HOOKED! I loved this whole series and the end.... Just AMAZING! I was so happy to have a good ending and one that I loved! It was very complete and very well written, with enough twists and turns to keep you on the edge of you seat. Loved it, 5 stars all the way.