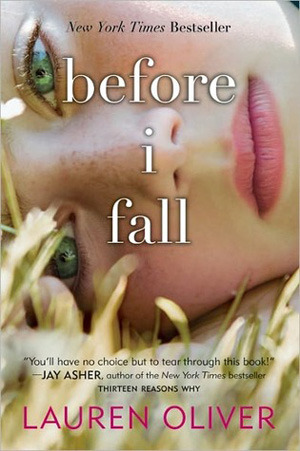 With this stunning debut novel,
New York Times
bestselling author Lauren Oliver emerged as one of today's foremost authors of young adult fiction. Like Jay Asher's
Thirteen Reasons Why
and Gayle Forman's
If I Stay
,
Before I Fall
raises thought-provoking questions about love, death, and how one person's life can affect so many others.
For popular high school senior Samantha Kingston, February 12—"Cupid Day"—should be one big party, a day of valentines and roses and the privileges that come with being at the top of the social pyramid. And it is…until she dies in a terrible accident that night.
However, she still wakes up the next morning. In fact, Sam lives the last day of her life seven times, until she realizes that by making even the slightest changes, she may hold more power than she ever imagined
My thoughts while reading this? Basically i wondered when she was going to do something very dangerous or anything. It seemed like all she did was random little things, like fighting with her best friends and yelling at her mom. I didn't really understand why she used her "relived" days (which she didn't know how many she was going to have) doing really weird things. I would have been traveling the world, doing things i would never have dared to do in real life. Don't get me wrong, she did a few things that she wouldn't have in everyday life but nothing HUGE I guess.She did do something to help herself and someone else in the end though so i was happy. I wish it ended a little bit differently though. I cant have everything i want though, sigh. I did really like her writing style though, it was very easy to get into the story and into her world. when i first cracked open this book i burn through almost 100 pages before i even knew what happened. Which for me equals my favorite kinds of books. Ones that are easy to get into and hard to ever set down and do other things like eat and sleep... Those are the kinds of books, I as a reader are always on the search for in my reading life.