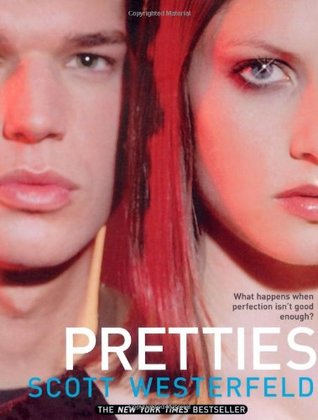 Gorgeous. Popular. Perfect.

Perfectly wrong.

Tally has finally become pretty. Now her looks are beyond perfect, her clothes are awesome, her boyfriend is totally hot, and she's completely popular. It's everything she's ever wanted.

But beneath all the fun -- the nonstop parties, the high-tech luxury, the total freedom -- is a nagging sense that something's wrong. Something important. Then a message from Tally's ugly past arrives. Reading it, Tally remembers what's wrong with pretty life, and the fun stops cold.

Now she has to choose between fighting to forget what she knows and fighting for her life -- because the authorities don't intend to let anyone with this information survive.
Not much to say about this one besides its a filler book. It was necessary for where the series is going but that's it. And a love triangle, really?! Was that necessary??? Don't think so. Oh well, not my favorite but worth the read to be able to finish off the series. Here's to hoping that Specials and Extras are better.