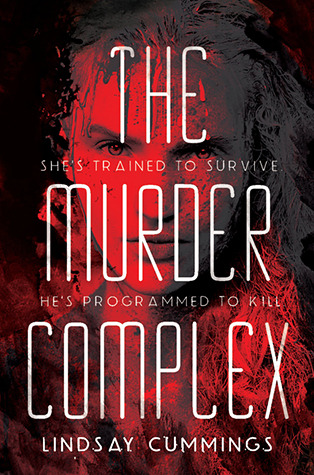 An action-packed, blood-soaked, futuristic debut thriller set in a world where the murder rate is higher than the birthrate. For fans of Moira Young's Dust Lands series, La Femme Nikita, and the movie Hanna.
Meadow Woodson, a fifteen-year-old girl who has been trained by her father to fight, to kill, and to survive in any situation, lives with her family on a houseboat in Florida. The state is controlled by The Murder Complex, an organization that tracks the population with precision.
The plot starts to thicken when Meadow meets Zephyr James, who is—although he doesn't know it—one of the MC's programmed assassins. Is their meeting a coincidence? Destiny? Or part of a terrifying strategy? And will Zephyr keep Meadow from discovering the haunting truth about her family?
Action-packed, blood-soaked, and chilling, this is a dark and compelling debut novel by Lindsay Cummings.
Oh. My. Gosh. Can I go and hide in a blanket fort until the next book comes out? THIS IS NOT OKAY! I need to know what happens in the end, I need to know what happens. Curse you cliff hangers! I normally hate it when books are done in more then POV but I loved it in this book, the chapters weren't repetitive so they weren't annoying and none of the chapters were overly long which makes it hard. Over all I give this book a huge Thumbs UP! I am soooo sad to have to return this to the library.... Tears.